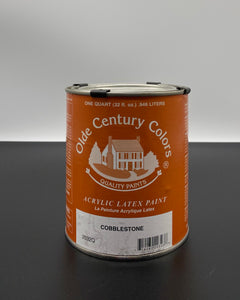 Cobblestone. This nice stone shade is the perfect dark neutral color to put places to hide dirt and grime. It will mask them and can easily be washed off when the dirt gets to be too much. This color is like the natural cobblestone walkways that you might find in England, and just as classic.  
A waterborne coating formulated with the highest quality ingredients to form a long-lasting protective and decorative finish for interior or exterior surfaces. Provides a tough, high-hiding, silky-smooth, low sheen finish.
Easy soap and water cleanup. Low VOC formulation for inside application. Dry to recoat in 8-12 hours and fully cured 7 days.