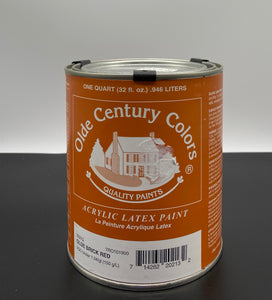 Olde Brick Red. Olden bricks have a certain timeless quality about them no matter where you go. This dark brown-red paint invokes this classic quality and is perfect for outdoor patios and buildings. It is also a great color to paint the outside of shutters to contrast with the white outside of your home.
A waterborne coating formulated with the highest quality ingredients to form a long-lasting protective and decorative finish for interior or exterior surfaces. Provides a tough, high-hiding, silky-smooth, low sheen finish. 
Easy soap and water cleanup. Low VOC formulation for inside application. Dry to recoat in 8-12 hours and fully cured 7 days.