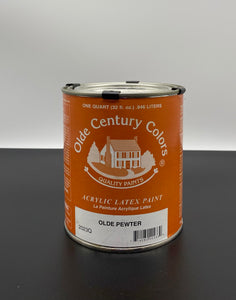 Olde Pewter is a soft greenish-silver metal that, when it ages, turns into a gentle muddy green. We have captured this unique shade of green in this paint. Use it to remind yourself that, even as things age, they still retain the beauty of the years within their form and color. Made in the USA!
A waterborne coating formulated with the highest quality ingredients to form a long-lasting protective and decorative finish for interior or exterior surfaces. Provides a tough, high-hiding, silky-smooth, low sheen finish.
Easy soap and water cleanup. Low VOC formulation for inside application. Dry to recoat in 8-12 hours and fully cured 7 days.